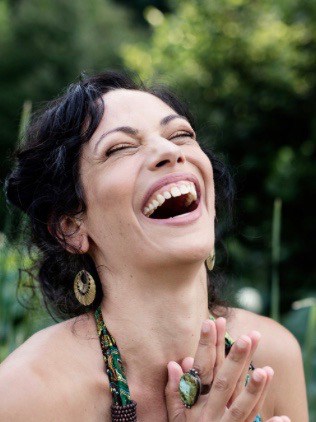 How Marni Shines
Decades of diverse yoga training and practice
Professional belly dancer
Offers soulful, rhythmic Vinyasa flow with use of harmonium
Marni is a yoga and meditation teacher with more than 20 years of experience in holistic wellness. She leads workshops, retreats, online courses, and mentoring programs throughout the U.S. and abroad. Her yoga classes are a unique blend of soulful inspiration woven into functional body mechanics, with a side of lighthearted playfulness.
After attending her first yoga class in 1996, she knew she had found her calling. Through the practice of yoga, her life began to change. She found meaning and purpose. She experienced radical healing in her body and mind. She dedicated herself wholeheartedly to sharing this work with all who want to learn.
Marni has completed thousands of hours of in-depth training in Jivamukti Yoga, Iyengar Yoga, Anusara Yoga, Ashtanga Yoga, Tibetan Buddhism, Thai Yoga Massage, Ayurveda, and Tantra. She spent three years in deep apprenticeship with her mentor and teacher, Sianna Sherman.  She was also a professional belly dancer for many years, which awakened in her the power of the feminine as a force of embodied wisdom, beauty, and creative inspiration.
In all of her offerings, you will experience the woven threads of mythology, soulful journeying, intelligent rhythmic unfolding, the power of aligned action, energetic wisdom from a deep and true lineage, and a sense of wonder and curiosity.